Del Tura Garden Club and the Demonstration Garden
95% of the Demonstration Garden was completed on December 2020 (corner of Gran
Via & Escorial). It was officially opened on April of 2021. A sign was installed near
the entrance to the garden.

The garden features 75% native plants and 25% exotics. The natives held up well to
hurricane Ian. Plan a visit to the garden to see which plants do well in Florida.
A 'sensory garden' will be added this season. Three raised planters will include herbs
for smell and taste. The planters will be constructed near the entrance to the
garden.

A fern grotto was planted November of 2022. It is at the entrance to the garden on
both sides of the sidewalk.

The next plant sale will be March 20th, 2023, from 9-2pm, at the garden site (corner
of Gran Via & Escorial). The plant sale will coincide with the "garden stroll". Five
residential gardens will be open to view.

Questions about the garden and garden club activities can be directed to Rosemary
Eiden, (813)220-9269,

[email protected]

.

The Del Tura Garden Club holds a once a month business meeting on the

first




Friday

of the month at 10am in the Clubhouse/Jacaranda room. A once a month
program meeting is the

second Monday

of the month. The

3rd Friday

is a social
outing to local gardens. We meet in the parking lot and carpool. You may join us
at any time.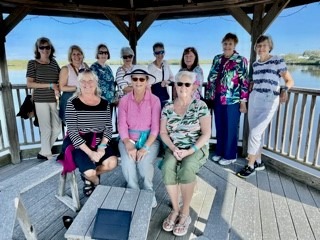 Peace River Botanical Garden, Punta Gorda, outing
                                             Back
row (left to right):
 Nancy Ashe, Pat Ostertag, Karen
                                             Toothman, Kay Nazamis, Cheri
 Vogel, Ruth Ann Lugten, Ann
                                             Colston

Front row (left to right);
 Sue Smith, Rosemary Eiden, Sue
                                             Larson